Shared By Members
Allstate Mayhem Commercials
Jake's Top 10 compiled All the Best Funniest Allstate Mayhem Commercials (From 2013 to 2019) into a 12 minute video and posted it on YouTube. It is worth watching for some good chuckles. There were a bunch that I've never seen before.
(Shared by Gloria Reiffer)
---
2020 C8 Mid-engine Vette
Here is a link to a video of the 2020 C8 Mid-engine Vette prototype testing at Nürburgring in Germany. One word: Awesome! Thought you all might enjoy it too!
(Shared by David Voss)
---
American Car Brochures
The lov2xlr8 web-site features original factory brochures for nearly every American car you may have owned. Pick the manufacturer, the year and the model. Enjoy!
(Shared by Sandy Bechtel, as received from her brother-in-law Skip)
---
Hello Capital City Corvette Club, from your friends in Arkansas
First a brief update - we are continuing to settle in to our new home. The new house has a bit more living space than our house in Michigan - but quite a bit less storage space - so determining where everything goes has been a challenge.
Between reconfiguring closets and working on some upgrades, we haven't done a lot of exploring around the area yet. BUT, we did make a point to go over to Eureka Springs for part of their Corvette Weekend.
Eureka Springs is a small (touristy) town, a bit less than 1 hour from our house, in the southern Ozark hills. Their Corvette Weekend is an annual event in the first weekend in October. It is a 3-day event that includes autocross, economy runs, driving tours (to Crystal Bridges Art Museum in Bentonville - over our way - this year), car show, for-sale corral, poker run, drive and dine and departing caravans. Each event is sponsored and organized by different Corvette clubs from Missouri, Arkansas and Oklahoma. The clubs also conduct a nursing home display and a rides for kids event. We did not register (they just have one price that gets you into any and all of the separate events - you can do as little or as much as you want); we just wanted to spend the one day there this time, so we just parked and walked over to the show. They claim to get over 1,000 Corvettes for the weekend and that they can park as many as 600 at the show. I don't think there were that many at the show this year, but it was obvious that there were at least as many Corvettes around town that were not at the show.
I have forwarded a link to some pictures I took at the show and a couple of our stops in the town.
I would highly recommend the event and the experience to CCCC. Think of us this time next year.
Y'all come down some time!
Ted & Julie
Corvette Takes on Aircraft
Jerry and Dominique attended the 40th Annual Sun n Fun International Fly-In & Expo in Lakeland, Florida during the week of April 1 - 6, 2014. They wanted to share a couple of really cool photos with you. You can click on each photo for a larger view.

(Shared by Dominique and Jerry Palacio)
---
2013 Spartan Speedway Event
Did you ever wonder what the view would be from inside a Corvette on the track at Spartan Speedway? Thanks to Richard Williams, Corvette Club of Battle Creek, you now have a chance. Richard filmed the following three videos during our event on July 27, 2013.
Door Cam | Rear Cam | Roof Cam
(Shared by Simon Reiffer)
---
National Corvette Museum Updates
On February 12, 2014, a major sinkhole developed in the rotunda area of the National Corvette Museum. Eight Corvettes dropped through the floor as a result.
You can follow the recovery of the Corvettes on the National Corvette Museum Website and see actual videos of each Corvette as it is lifted from the sinkhole on the NCM YouTube page. This page is updated on a regular basis so be sure to check out all of the latest videos.
The "sinkhole Corvettes" will come together for a special display in the Museum's Exhibit Hall through August 3, after which time they will be moved into the restored Skydome where they will remain on display, as-is, through the Museum's 20th Anniversary Event August 27-30, 2014.
(Shared by Gloria Reiffer)
---
Vettes from the Hole
Jerry and I left early for Florida last Saturday [March 15, 2014) just to make the stop at the museum to see the sad cars that were rescued from the hole. We were most interested in the blue devil that seems to look the best because it sparked the interest across the country when her engine roared with the push of the button being the first car hoisted up from the rubble. Then second to the zr1, was the 1962 black convertible, which from the display side looks pretty good, but then walk around to the other side and you know there is trouble. The rest, well, I really can't say except for major surgery... Click here to view some pictures taken at the museum.
(Shared by Dominique and Jerry Palacio)
---
When Bad Things Happen to Good Cars
Sandy received some pictures, guaranteed to make any car guy cringe, from her brother-in-law Skip. She thought you might like to see them. Click here to view a page on the Pinterest Website that shares stories behind some the pictures.
(Shared by Sandy Bechtel)
---
Reminder of Proper Caravan Procedure
This is for our new members and a reminder for members that have been in the club for a while.
Leader: The leaders job is to make sure the caravan stays together. This usually means driving the speed limit and some times slowing to less than the speed limit to allow members to keep up. When pulling out onto busy roads you will often have to drive slow until everyone gets out. Those not in the caravan will most likely choose to pass the group.
Caravan Members: It is your job to try a keep up to maintain the caravan. If you are following someone who chooses to drive slower it is not bad form to pass when it is safe. That member should not be offended, as you have taken the pressure off them to drive faster than they want to.


---
It's the RETURN OF THE STINGRAY
The 2014 Corvette Stingray is the most powerful standard model ever, with an estimated 450 horsepower (335 kW) and 450 lb.-ft. of torque (610 Nm). It is also the most capable standard model ever, able to accelerate from 0-60 in less than four seconds and achieve more than 1g in cornering grip. It is expected to be the most fuel-efficient Corvette, exceeding the EPA-estimated 26 mpg of the current model. Click here for the full article published by the National Corvette Museum.
(Shared by Joe Thomas)
---
Car and Driver: Tested: 2014 Chevrolet Corvette Stringray / Z51 Revealed
Contributing Editor Csaba Csere reveals everything you need to know about the all-new 2014 Chevrolet Corvette on the latest episode of Car and Driver: Tested. Check out their two-part interview segment with the engineers, designers, and managers of the 2014 Chevrolet Corvette. Part 1 | Part 2
(Shared by Gloria Reiffer)
---
Reveal of the 2014 Chevrolet Corvette Stingray
Scott shared a link to some info about the C7 debut that members may enjoy on Corvette Blogger. There is also a live reveal video available on the NCM Website. It's almost 45 minutes long. The action begins around 7 minutes in, with the total unveil at about 33 minutes in.
(Shared by Scott Bauries and Gloria Reiffer)
---
Corvette enthusiasts anxiously await new release
Members of the Royal Corvettes of Western Michigan are pleased Chevrolet is releasing an all new Corvette in January at the North American International Auto Show in Detroit. USA Today posted a video that features some of our RCWM friends, filmed by WZZM TV 13.
(Shared by Gloria Reiffer)
---
New Vette Corvette Series Coming to Speed Channel
This coming January the Speed Channel will have a new show you won't want to miss. 'Vette, a Corvette Series' is filled with fast cars and people who live and breathe Corvettes. The 13-episode series will air during prime time on Wednesday nights.
Sample episodes include a visit to Rick Hendrick's Corvette Collection, tour of the Corvette Plant and Museum, a journey down Route 66, a behind the scenes look at Corvette Racing, stories of Corvette Pace Cars and much more.
(Shared by David Pursel)
---
2014 Chevy Corvette
Trinity's latest render of a C7 Corvette in stunning black that's a better preview of the car everyone expects to see at next year's Detroit Auto Show.
(Shared by Ted Lasher)
---
Internet Pulls Together 1,200 Cars for Terminally Ill Boy
A father had just found out his son was terminally ill with cancer and he wanted to give him one last thrill with a small car show on September 8, 2012. The request went viral after posting on the Internet.
(Shared by Ted Lasher)
---
Marshall Memorial Day Parade Video
I came across this 2010 parade video, by someone named Sully, when I was looking for information about the 2012 Marshall Memorial Day Parade . You will see all of the cars that were in the parade that year. The Corvettes begin about 4.5 minutes into the video. You should be able to pick our Capital City Corvette Club members as we drive by. After viewing it will take you back to associated videos that will include parts of the parade that we always miss by being in it.
(Shared by Gloria Reiffer)
---
Family Helping Family Program
The National Council of Corvette Clubs is putting together a new program for members called Family Helping Family. NCCC is asking for our assistance to make this program successful. I will be looking for two or more club members to be on the contact list for other NCCC members traveling through our area. The hope is to have someone that has mechanical knowledge, someone with a trailer, someone with a spare bed and if someone wanted to stop and have a cup of coffee and conversation that we would have someone that might sign up just for that. Let me know if you are interested in finding out more about the program.
(Shared by Simon Reiffer)
---
43 Named Master Ambassador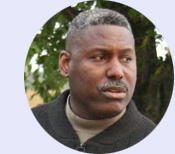 Each Labor Day weekend, during the Anniversary Celebration at the National Corvette Museum, the "Master Ambassador" status is awarded to those Ambassadors who accrue 200 or more points during the previous year (July-June).
At this year's event the NCM had 43 individuals and couples earning that recognition:
Edward Huck (Cruisin' Corvettes of Tallahassee), Michele Cantelmo (Pocono Mountains), Ed Clark (Corvette Atlanta), Brenda & Mac McDonagh (Coastal Carolina), George Sipprell (Connecticut-at-large), Mike Furman (Frederick County), Paul & Barbara Mariano (Queen City), Jack DeLong (Skyline Drive), Charley Robertson (Circle City), Paul Pearson (Corvettes Limited of BG), Len Tucker (Classical Glass), John & Colette Killebrew (East TN), Judy & Marty Dooley (St. Louis), David & Janice Raven (Corvettes of Durham), Randall Shinn (NCM Fighter Squadron), Janet & Nick Polasek (Ontario-at-Large), Don Nabors (Bluegrass), Ernie Naugle (North Central PA), Ed Snell (Central IL), Glenn & Andrea Johnson (Tri-City), Steve & Paulette Blunk (Circle City), Frank & Laura Sancineto (RTP Corvettes), Carl & Marie Stover (Perry), Charlie & Debbie Meade (Myrtle Beach), Bobbie & Bill Weir (Texas-at-large), Jeff McQuade (Calhoun County), Jerry Pelton (Emerald Coast), Tuna & Susan Dobins (Central Oklahoma), Johnny & Edie Downs (Lone Star), John & Helen Jensen (NC-at-large), Richard Loch (Down the Road), Joe Moncado (Kansas City), Fred & Glenda Hale (Classic Glass), Berry Pinney (Corvette Cleveland), Bruce & Donna Bronsema (Lookingglass), Frank LoMonaco (Santa Barbara), Joe Thomas (Capital City Corvette Club & Corvette Club of Michigan), John Bieglecki (Spirits of '53), Dave Putz (Florida), Jim Egan (Pace Car Registry), Dennis Morrill (Long Island), Doug John & Francie Denis (Central CA).
(Shared by Sue Keith)
---
Tony Kannan and Helio crash at Baltimore
You've got to see this. This is the difference between oval courses and street courses in open wheeled racing. Expect to see the unexpected as Tony Kanaan and Helio Crash at Baltimore.
(Shared by Simon Reiffer)
---
Corvettes at MIS - What an Experience!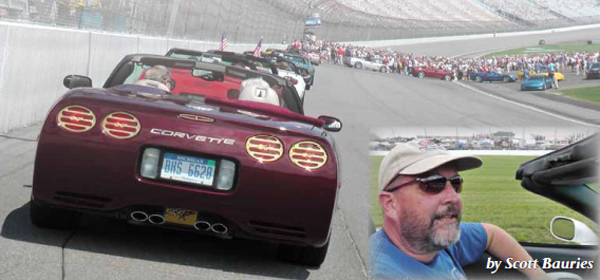 Sunday, August 21, 8:30 a.m., VFW Hall, Onsted, Michigan — 50 Corvettes are sitting in the rain awaiting the signal to line up behind a Michigan State Trooper to be escorted to Michigan International Speedway. Everyone milling about waiting for the rain to stop to dry of our cars. Although most cars are from the Jackson Corvette Club, three are member cars from the Capital City Corvette Club. Bill Bratschi, son of Rich & Colleen, in a 1999 white convertible, Terry and Chris Burke in their 2000 red convertible and Scott and his father Fred in Scott's 1998 white convertible.
Click here to read more about the event and find out who rode with Scott and his father.
(Shared by Scott Bauries)
---
Dominique Gets Bricked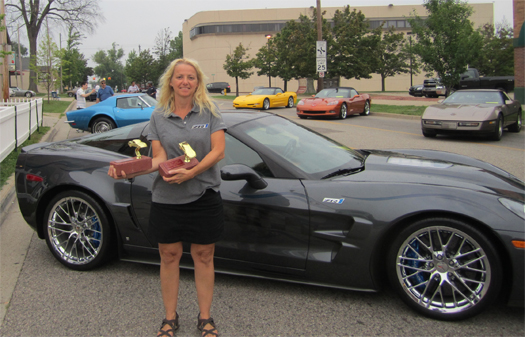 Dominique gets Bricked at Back to the Bricks Corvette reunion in Flint on Saturday, August 20, 2011 She won two back to the bricks trophies with real bricks. She took a Trophy for top fifty Corvettes at the show, with over 300 Corvettes in attendance. She was also was presented with a trophy and certificate for top 30 Corvettes for nomination for selection for the Motor City Corvette Concours Metro Detroit Premier Corvette Event in September.
Visit the Back to the Bricks Website to see what the event was all about.
(Shared by Jerry Palacios)
---
Corvettes America Winner!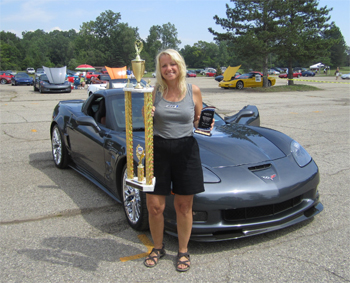 Dominique won top prize at Corvettes America with over three hundred and fifty corvettes from as far as California, Texas, Florida, and Canada. Best of show For C6 corvettes and 2nd place for show and shine she left a speck on one of the wheels. She was asked by one of the GM engineers of the ZR1 to do graphics for his own personal Corvette but she declined the offer. (P.S. Trophy almost bigger than her.)
Watch the Corvettes America Website for additional pictures of this national event, which took place on August 13, 2011 in White Lake, Michigan.
(Shared by Jerry Palacios)
Watch a video of Corvettes America by Quickie Films on YouTube. Jerry and Dominique's new ZR1 is featured at 1:13 and 9:14 in all its glory.
(Shared by Milton Scales)
---
NCRS DUNTOV Mark of Excellence Award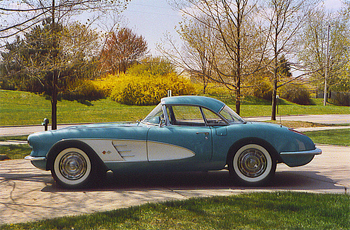 Harold Twining won the NCRS Duntov award with his 1959 Crown Sapphire Coupe at the 2011 NCRS convention! This award was created by the National Corvette Restorers Society in 1985, in honor of Mr. Zora Arkus-Duntov, long-time Chief Engineer for the Chevrolet Corvette, who retired from General Motors in 1975. The Duntov Award recognizes individuals for the restoration and preservation of 1953 -1974 Corvettes. To achieve this coveted award, an owner must attain a judging score of at least 97% out of 100 % based on an original "as manufactured" standard at a National or Regional NCRS event; as well as present the car for a rigorous performance test of all vehicle mechanical components and functions, all of which must operate as those of a new car, without a single failure. Finally, the car must again score at least 97%, at a National NCRS Convention, to receive the Duntov Award. The process of achieving the Duntov Award requires attendance at a minimum of three events, and must be completed within a three year period. Only 1,525 Corvettes have achieved the NCRS Duntov Mark of Excellence Award.
(Shared at the August Membership Meeting)
---
Corvettes at the Summit
On Saturday, July 9, 2011, I attended the eighth annual "Corvettes at the Summit" show with the Michigan Chapter of the Solid Axle Corvette Club, which I am a member of, in Heritage Park, Canton, MI. The show is sponsored by the Corvette Legends Club. Tom Gamache, with his beautiful '54 Corvette is also a member of the Michigan Chapter of the SACC. As you can see in the pictures, the setting for the Show is gorgeous. Every Corvette parks on grass, surrounding a large pond. There are food, ice cream and other Vendors there, also a Photographer on site to take a picture of you in your Vette as you enter the Park. I would be happy to lead a group of our members to attend the show next year for its ninth annual gathering, for the experience of a very enjoyable Corvette day.
(Shared by Patrick Lickfeldt)
---
Dramatic Vintage Racing Crashes from Yester Year
Only sissies used roll cages, safety harnesses, or any other safety devices. These guys were nuts. Click here four four minutes of flying driver's bodies, mayhem and death. This information was shared with me by David Lint, a local Corvette owner.
(Shared by Gloria Reiffer)
---
2012 Chevrolet Corvette ZR1 Laps the Nürburgring
To demonstrate the improvements on the 2012 Corvette, Chevrolet has returned to the Nürburgring with the range-topping ZR1. As the video shows, the car - which features a supercharged 6.2-liter V8 engine with 638 hp (476 kW / 647 PS) and 604 lb-ft (818 Nm) of torque - lapped the legendary Nordschleife in 7:19.63 which is more than six seconds faster than the previous Corvette record that was set back in 2008. To get the improved time, the ZR1 was equipped with the new PDE performance package which has a full-width rear spoiler and Michelin Pilot Sport Cup Zero Pressure tires that are "optimized for warm, dry conditions to increase cornering and handling capability." This information was shared with me by David Lint, a local Corvette owner. Chevrolet is the source of the information.
(Shared by Gloria Reiffer)
---
Electric Car Drag Race
This is a must see! If a little guy in a home garage can make this, what are all the big car makers doing in all their giant labs? What have all the Detroit automakers been doing? Watch as John Wayland's electric car, the White Zombie leaves high powered gas cars in the dust as Portland makes a home for the National Electric Drag Racing Association. John claims that his car is the world's fastest accelerating street legal electric car. See this 1972 Datsun time and time again take advantage of the electric motor's full torque in the first instant and continue to break world records.
(Shared by Mike Britz)
---
Everything you may or may not want to know about Gasoline and Octane Rating
When teaching about hydrocarbons in chemistry classes, I sometimes get questions about Octane. I also hear of people using higher octane in their car than recommended by the manufacturer. That is not always good, and can cause other problems in the long run. Some of the following information may help you understand the octane levels in the gasoline used in our Corvettes and other vehicles. Text was compiled from various sources, including class notes and from my personal experience in the lab. (More...)
(Shared by Craig Iansiti)
---
Paving Daytona Speedway
Most of you know, Daytona International Speedway is being completely re-paved due to chunks of asphalt coming up, even during the races. These are some incredible pictures of how to pave 2 ½ miles of 33 degree banked turns and long super stretches of strait-a-ways. Definitely, a very difficult task, but could you imagine the cost of the contract?
(Shared by David Pursel)
---
1960 #3 Le Mans Corvette History Return
Automotive history was made when the #3 Cunningham 1960 Corvette was returned to LeMans, France... the site of the car's win at the legendary 24 hour endurance race. It was restored to its race day configuration of a half-century ago and is now owned by the Chip Miller family.
(Shared by Craig Iansiti)
---
Full of Curves
A couple of these would make for a testy drive. View pictures of some of the strangest and most beautiful streets in the world.
(Shared by David Pursel)
---
Woodward Dream Cruise
View pictures from the 2010 Woodward Dream Cruise.
View pictures from the 2009 Woodward Dream Cruise.
(Shared by Ted Lasher)
---
Remember Slot Car Racing?
Remember the electric slot car tracks when you were a teenager? Check out these slot car videos on YouTube for a trip down memory lane. I had a Jaguar XKE and a 1965 Barracuda that I raced on slot car tracks in Grand Rapids.
(Shared by Simon Reiffer)
---
Corvette ZR-1 at GM Milford Proving Grounds
Raw footage taken from an external camera mounted on the 2009 Corvette ZR1 at GM's Milford Proving Grounds. This is raw footage so wind noise is still present. A second in-car video shows the ZR1 driven by GM test engineer Jim Mero at the "Lutz Ring" otherwise known as Milford Road Course.
(Shared by Ted Lasher)
---
Exhaust System 101
Since I was so bored yesterday, I thought I would finally get my new cat back exhaust system installed before the touring season starts. I so love these little Vette projects which you think are going to be simple and bring joy to your day. I mean by that, that you would think hanging a new exhaust system, cat back, on an 84 would be a rather simple 1-2 hour task. Right? Wrong! Read on...
(Shared by David Pursel)
---
World's Most Beautiful Garages - and some cars
Check out what have to be the worlds most beautiful garages and cars. These garages are amazing. Anyone got a spare million or two???
(Shared by David Pursel)
---
Cadillac V Day in Shanghai
On May 9, 2009, thousands of spectators gathered at Shanghai's Formula 1 Circuit to watch a team of professional stunt drivers perform daring maneuvers with Cadillac's in celebration of the car's introduction to China. Be sure to watch John Heinricy and the Cadillac CTS-V set the production sedan record at the F1 course with a lap of 2:32.80.
(Shared by Simon Reiffer)
---
C5 Computer Diagnostic Codes
The ability to view engine operating data such as oil pressure and coolant temperature, in digital form on the instrument panel has been a feature of Corvettes since 1984. Starting in 1992, the instrument panel could display limited diagnostic data relating to the car's on-board computer systems.
A Corvette Forum member provided a list of C-5 diagnostic codes that can help you out. The code list is towards the end of the article.
(Shared by Ed Politza)
---
The History of Jake: Corvette Racing's Mascot
Racing liveries come and go, but there are some so iconic, so recognizable, they'll be remembered forever. For example, Gulf and Martini Racing. There's now a new one to add to that list. Meet "Jake.
(Shared by Ted Lasher)
---

CCCC Members may contact our Webmaster at the following address if you have something to share on this page. Be sure to include "Webmaster" in the subject line so that the email can be directed appropriately. Inclusion is at the discretion of the Webmaster.