Shared By Members
CorvSport ~ Corvette News, Reviews, Rumors & Lifestyle
CorvSport is an interesting website that I came across. It includes a complete list of Corvette models and years, a section on Indy 500 Pace Cars, a section on Corvette Anniversary Edition Cars, and a lot of videos.
(Shared by Simon Reiffer)
---
Corvette Cruising
I've launched a YouTube channel called Corvette Cruising. It costs nothing to subscribe. Clicking subscribe and notification let's you know when I upload a new video. Once the weather breaks I'm planning on featuring Corvette modifications, Vette owners and their cars, and telling your Vette stories. Of course I'll feature CCCC members because this is my base. Have a great day, stay warm and Enjoy the Ride.
(Shared by Ed Thomas)
---
American Car Brochures
The lov2xlr8 web-site features original factory brochures for nearly every American car you may have owned. Pick the manufacturer, the year and the model.
(Shared by Skip Herold, Jr.)
---
2013 Spartan Speedway Event
Did you ever wonder what the view would be from inside a Corvette on the track at Spartan Speedway? Thanks to Richard Williams, Corvette Club of Battle Creek, you now have a chance. Richard filmed the following three videos during our event on July 27, 2013.
Door Cam | Rear Cam | Roof Cam
(Shared by Simon Reiffer)
---
When Bad Things Happen to Good Cars
Pictures guaranteed to make any car guy cringe. Click here to view a page on the Pinterest Website that shares stories behind some the pictures.
(Shared by Skip Herold, Jr.)
---
Reminder of Proper Caravan Procedure
This is for our new members and a reminder for members that have been in the club for a while.
Leader: The leaders job is to make sure the caravan stays together. This usually means driving the speed limit and some times slowing to less than the speed limit to allow members to keep up. When pulling out onto busy roads you will often have to drive slow until everyone gets out. Those not in the caravan will most likely choose to pass the group.
Caravan Members: It is your job to try a keep up to maintain the caravan. If you are following someone who chooses to drive slower it is not bad form to pass when it is safe. That member should not be offended, as you have taken the pressure off them to drive faster than they want to.


---
Marshall Memorial Day Parade Videos
I came across this 2010 parade video, posted by someone named Sully, when I was looking for information about the 2012 Marshall Memorial Day Parade. You will see all of the cars that were in the parade that year. The Corvettes begin about 4.5 minutes into the video and you should be able to pick our Capital City Corvette Club members as we drive by. We always miss viewing the parade by participating in it.
I sat out the 2014 Marshall Memorial Day Parade and recorded the Corvette portion. Enjoy!
(Shared by Gloria Reiffer)
---
Family Helping Family Program
The National Council of Corvette Clubs is putting together a new program for members called Family Helping Family. NCCC is asking for our assistance to make this program successful. I will be looking for two or more club members to be on the contact list for other NCCC members traveling through our area. The hope is to have someone that has mechanical knowledge, someone with a trailer, someone with a spare bed and if someone wanted to stop and have a cup of coffee and conversation that we would have someone that might sign up just for that. Let me know if you are interested in finding out more about the program.
(Shared by Simon Reiffer)
---
Tony Kannan and Helio crash at Baltimore
You've got to see this. This is the difference between oval courses and street courses in open wheeled racing. Expect to see the unexpected as Tony Kanaan and Helio Crash at Baltimore.
(Shared by Simon Reiffer)
---
NCRS DUNTOV Mark of Excellence Award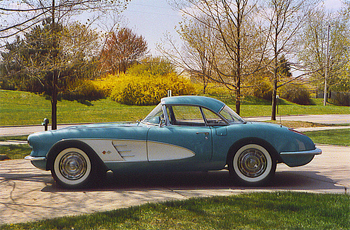 Harold Twining won the NCRS Duntov award with his 1959 Crown Sapphire Coupe at the 2011 NCRS convention! This award was created by the National Corvette Restorers Society in 1985, in honor of Mr. Zora Arkus-Duntov, long-time Chief Engineer for the Chevrolet Corvette, who retired from General Motors in 1975. The Duntov Award recognizes individuals for the restoration and preservation of 1953 -1974 Corvettes. To achieve this coveted award, an owner must attain a judging score of at least 97% out of 100 % based on an original "as manufactured" standard at a National or Regional NCRS event; as well as present the car for a rigorous performance test of all vehicle mechanical components and functions, all of which must operate as those of a new car, without a single failure. Finally, the car must again score at least 97%, at a National NCRS Convention, to receive the Duntov Award. The process of achieving the Duntov Award requires attendance at a minimum of three events, and must be completed within a three year period. Only 1,525 Corvettes have achieved the NCRS Duntov Mark of Excellence Award.
(Shared at the August Membership Meeting)
---
Dramatic Vintage Racing Crashes from Yester Year
Only sissies used roll cages, safety harnesses, or any other safety devices. These guys were nuts. Click here for four minutes of flying driver's bodies, mayhem and death. This information was shared with me by David Lint, a local Corvette owner.
(Shared by Gloria Reiffer)
---
Everything you may or may not want to know about Gasoline and Octane Rating
When teaching about hydrocarbons in chemistry classes, I sometimes get questions about Octane. I also hear of people using higher octane in their car than recommended by the manufacturer. That is not always good, and can cause other problems in the long run. Some of the following information may help you understand the octane levels in the gasoline used in our Corvettes and other vehicles. Text was compiled from various sources, including class notes and from my personal experience in the lab. (More...)
(Shared by Craig Iansiti)
---
Paving Daytona Speedway
Most of you know, Daytona International Speedway is being completely re-paved due to chunks of asphalt coming up, even during the races. These are some incredible pictures of how to pave 2 ½ miles of 33 degree banked turns and long super stretches of strait-a-ways. Definitely, a very difficult task, but could you imagine the cost of the contract?
(Shared by David Pursel)
---
1960 #3 Le Mans Corvette History Return
Automotive history was made when the #3 Cunningham 1960 Corvette was returned to LeMans, France... the site of the car's win at the legendary 24 hour endurance race. It was restored to its race day configuration of a half-century ago and is now owned by the Chip Miller family.
(Shared by Craig Iansiti)
---
Full of Curves
A couple of these would make for a testy drive. View pictures of some of the strangest and most beautiful streets in the world.
(Shared by David Pursel)
---
Remember Slot Car Racing?
Remember the electric slot car tracks when you were a teenager? Check out these slot car videos on YouTube for a trip down memory lane. I had a Jaguar XKE and a 1965 Barracuda that I raced on slot car tracks in Grand Rapids.
(Shared by Simon Reiffer)
---
Corvette ZR-1 at GM Milford Proving Grounds
Raw footage taken from an external camera mounted on the 2009 Corvette ZR1 at GM's Milford Proving Grounds. This is raw footage so wind noise is still present. A second in-car video shows the ZR1 driven by GM test engineer Jim Mero at the "Lutz Ring" otherwise known as Milford Road Course.
(Shared by Ted Lasher)
---
Exhaust System 101
Since I was so bored yesterday, I thought I would finally get my new cat back exhaust system installed before the touring season starts. I so love these little Vette projects which you think are going to be simple and bring joy to your day. I mean by that, that you would think hanging a new exhaust system, cat back, on an 84 would be a rather simple 1-2 hour task. Right? Wrong! Read on...
(Shared by David Pursel)
---
World's Most Beautiful Garages - and some cars
Check out what have to be the worlds most beautiful garages and cars. These garages are amazing. Anyone got a spare million or two???
(Shared by David Pursel)
---
C5 Computer Diagnostic Codes
The ability to view engine operating data such as oil pressure and coolant temperature, in digital form on the instrument panel has been a feature of Corvettes since 1984. Starting in 1992, the instrument panel could display limited diagnostic data relating to the car's on-board computer systems.
A Corvette Forum member provided a list of C-5 diagnostic codes that can help you out. The code list is towards the end of the article.
(Shared by Ed Politza)
---
The History of Jake: Corvette Racing's Mascot
Racing liveries come and go, but there are some so iconic, so recognizable, they'll be remembered forever. For example, Gulf and Martini Racing. There's now a new one to add to that list. Meet "Jake.
(Shared by Ted Lasher)
---
CCCC Members may contact our Webmaster at 4c.webmaster@cccorvette.org if you have something to share on this page. Inclusion is at the discretion of the Webmaster.