From Our President...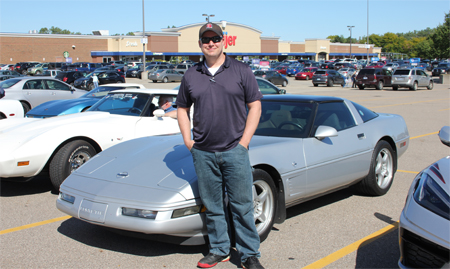 Members,
June is just around the corner and now it feels like Summer again. Car show and cruise season has definitely shifted into gear and is accelerating. Seems like there is a car show or cruise-in every evening in Michigan somewhere. The question isn't if there is a car show, but where is the car show! This is a great opportunity to share your love for Corvettes with the community. Don't forget to wear or display something signifying your membership with the club, every Corvette owner is a potential member! Be prepared to talk us up and all the fun we have. Don't forget to tell them about our website and Facebook page if you don't have any pamphlets to hand them so they can find us later.
Convention is in a few weeks. This will be my first and I am excited to find out what it is all about. Upon returning, we will be preparing to host our first Sanctioned event of the year with Blessing of the Corvettes car show and a Rallye following. The success of these events relies on club members helping to put them on. If you can, please volunteer to work as many events as you can to support the organizers. While we have sign-up sheets at the meetings to get known needs covered, it never hurts the day of an event to ask the organizer "Do you need help with anything else?". The more people that pitch in, the less work each person has to do and the more time everyone gets to enjoy the event.
I will continue my message of hope for this year. Recently the Governor announced plans to phase all of the Covid protocols out. This will mean our venues that have forced cancellations in the past will no longer be constrained from hosting groups! Even with protocols in place, I have seen a resounding common theme at the events held so far this year - People want to get out and do things. Even when the weather isn't perfect or they know it will be a small event, people are showing up and they are excited!
Save the Wave!
Kyle Felts
President & Competition Director
Capital City Corvette Club
Contact our President at 4c.president@cccorvette.org if you have any questions about CCCC.