Late Breaking News
Welcome!
Capital City Corvette Club extends a warm welcome to our newest members: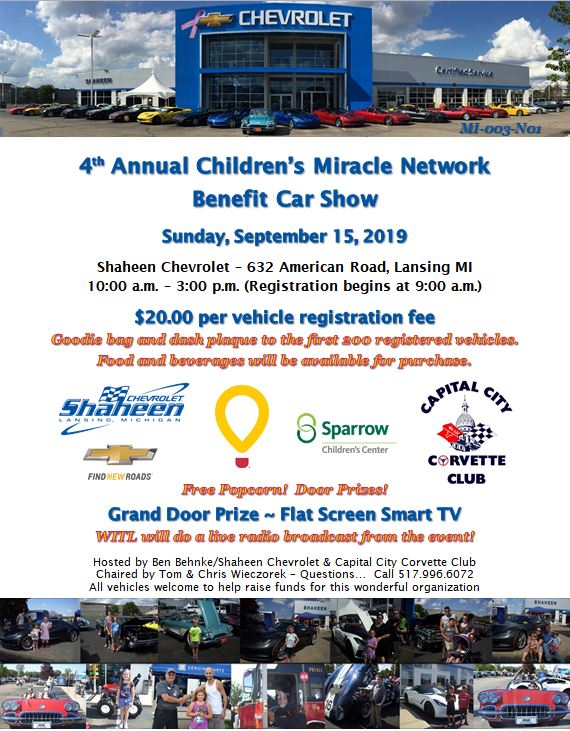 Kim Schramm and Robert Watson from Haslett. Kim and Robert drive a 1978 silver coup and a 1979 red coupe.
Kyle Felts from Lansing. Kyle drives a 1996 silver coupe.
Mike and Holly Beam from Grand Ledge. Mike and Holly drive a 1998 torch red coupe.
Children's Miracle Network Fundraiser
Thank you to everyone that came out for the 4th Annual Children's Miracle Network Benefit Car Show at Shaheen Chevrolet on September 15! With your help we were able to raise $5,322.93 for the Children's Center at Sparrow Hospital.
Caleb Hayes of Mason was our grand prize winner. Caleb took home a 50" VIZIO Smart TV that was generously donated by Shaheen Chevrolet. Click here for additional information and to view pictures from this annual event.
It's Renewal Time!!!
NCCC/CCCC dues are renewed each fall for the upcoming year. Renew your membership prior to the end of the November general membership meeting to avoid a $10 late fee, imposed by NCCC. Spouse/Companion membership is restricted to husband, wife, or significant other of the Primary member. Dependent membership is defined as the child of any Primary or Spouse member who is between the ages of 16 and 21, or between the ages of 16 and 25 and also a full time student. See the NCCC Website for additional clarification on dependent members.
Dues information is available on the Join Us! page of our Website. Dues are different for New, Renewal, Social and NCCC Lifetime memberships. Remember, it's only $20 per year ($10 CCCC/$10 NCCC) to include your spouse. This provides them with NCCC Insurance protection. NCCC Insurance ~ Frequently Asked Questions
Election of Officers
It's that time of year where we begin planning for the fall election of our 2020 club officers. The Capital City Corvette Club By-Laws (2012) state, Article IV, Section A1, Officers - Must be Members in good standing and hold their NCCC number with CCCC. Article IV, Section B, 2a, requires that the President must have held a prior elected office in the Club and Article VIII, Section A requires that club officers have their CCCC membership dues renewed for the coming year. Nominations will be taken at the September 4 and October 2 General Membership Meetings, with the election to be held November 6. Please consider offering your services to the Club.
Tire Raffle for St. Jude's
NCCC has acquired three tire certificates to be shared with the general membership through raffles. The attached NCCC Tire Form has details, including cutoff dates, for all three individual raffles. Raffle tickets are $25 each and you may purchase as many as you wish. All funds raised will support St. Jude Children's Research Hospital.
CCCC Facebook Page:
Be sure to check out Capital City Corvette Club's Facebook page @capitalcitycorvettelansing. The page is maintained by Dave Voss who has given it a fresh new look with frequent updates.
CCCC Sponsor:
Shaheen Chevrolet is the sponsor of Capital City Corvette Club! Shaheen's is one of the area's finest Chevrolet dealers. Ben Behnke is our club contact.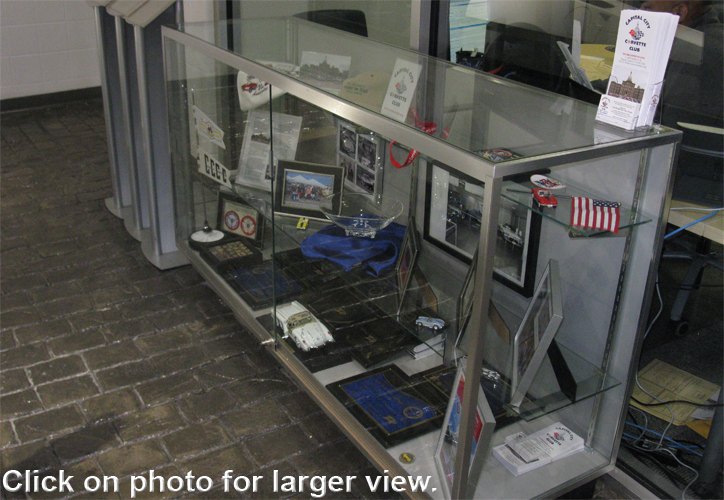 Call Ben at 517.881.9253 when looking for your next new or used vehicle! He will be pleased to offer assistance to all CCCC members that don't have an established relationship with another Shaheen sales consultant.
Shaheen Chevrolet has provided a beautiful showcase in their Community Room to display club artifacts. Stop in and check it out!
National Council of Corvette Clubs and Region News:
Click on one of the following links for more NCCC and Michigan Region information.
NCCC Website | NCCC Member Discounts | NCCCNET | Waivers
Michigan Region Website | Region Calendar | Region Event Flyers | Region Minutes | Region Points Standings
Message from the President of the National Council of Corvette Clubs:
Click here to read the latest letter from Dale Samuelson, President of NCCC. You will find it toward the bottom of the home page of the NCCC Website. Dale will send a monthly message, via email, to all members of NCCC at the email address listed in the national database. If you are not receiving it, please contact our Membership Director so that she can check your email address in the database.
NCCC Discounts:
NCCC members are eligible for discounts from various companies ranging from Corvette parts and accessories; flooring; hotels; racing helmets; insurance; travel planning; buy or sell listings; books or magazines; Corvette themed clocks, flags, artwork, furniture, canvas photography; and through their Commercial Club Rewards Program, Sears offers NCCC members discounts on Craftsmen tools, Kenmore and brand name appliances, exercise equipment, grills, mowers, tractors, televisions, mattresses, generators, snow throwers, water softeners, garage storage, and gift cards.
The Discounts page on the NCCC Website offers additional information and links to discounts offered by friends of NCCC. Be sure to check it out before ordering or purchasing items so you can maximize your shopping experience.
Future Corvette Owners Association: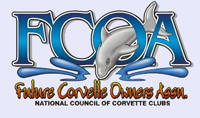 Learn more about the Future Corvette Owners Association (FOCA), a division of the National Council of Corvette Clubs (NCCC). For a one-time fee of $10.00 you can enroll your children, grandchildren, nieces, nephews and those you have guardianship of in this program until they reach the age of 16.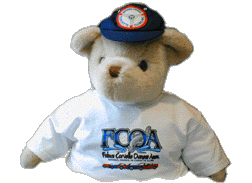 Be sure to process all FCOA enrollments through Angela Hyde, our Membership Director. Angela tracks how many FCOA members are sponsored by CCCC members.
FCOA members receive a membership packet that includes a membership card and some trinkets. There is also a Website for FCOA members that is updated on a regular basis. CCCC members are currently sponsoring 38 FCOA members!
FCOA apparel and membership information are available by clicking one of the links or graphics provided.
NCCC Web Site Contest Winner:
Capital City Corvette Club's Website was awarded first place in the NCCC Annual Club Web Site Contest in 2009, 2011, 2013, 2015, 2016 and 2017. We received second place in 2006, 2007 and 2008. The site wasn't entered in the competition in 2010, 2012 and 2014 due to the previous years win. (View past awards.)
The NCCC Web Site Contest was sponsored by Zip Products.