Blessing of the Vettes - June 26, 2021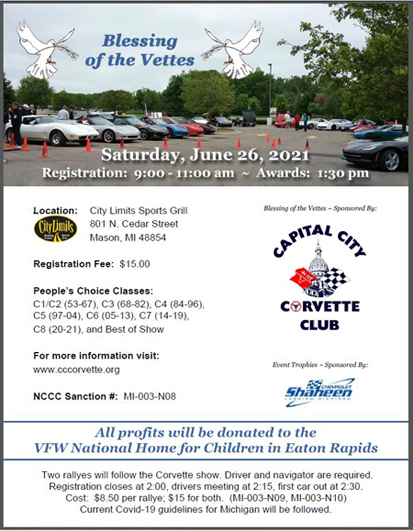 Blessing of the Vettes is a people's choice Corvette show and rallyes benefiting the VFW National Home for Children in Eaton Rapids.
The national home's community is open to the families of active-duty military personnel, veterans and relatives of veterans of foreign wars, and to VFW auxiliary members. Families receiving assistance can consist of one or both parents with one or more children.
EVENT FLYER & REGISTRATION FORM
The event will be held at City Limits Sports Grill on June 26. We begin the morning with a People's Choice Corvette Show during which entrants have the opportunity to have their Corvette blessed by our Club Chaplain. Two rallyes follow the show.
Please consider becoming a mini-sponsor of this show in 2021. Details are available on the registration form, linked below. In 2019, with the help of our entrants and our mini-sponsors, approximately $1,500 was raised for the VFW National Home for Children. Although the show was cancelled for 2020, a total of $1,816.93 was donated through the John Bechtel Memorial Fund. This was a cause that was very near and dear to John's heart.
Official NCCC Sanctioned Flyers & Registration Form:
Corvette Show (MI-003-008) | Rallyes (MI-003-009, MI-003-010) | Registration Form
2021 Trophy Sponsor
Shaheen Chevrolet - Lansing, MI
2021 Mini-Sponsors
Sandy Bechtel
Mike & Connie Britz
Tom & Michelle Faupel
Ward & Jeanne Harris
Bill & Melissa Hass
Bob & Shalimar Maynard
Kevin & Patricia Mead
Chuck Miller

Carl & Carolyn Polomski
David & Kathryn Pursel
Randy & Carol Putmon
Simon & Gloria Reiffer
James Sutherland & Stella Wood
Harold & Katherine Twining
Tim & Mary Wells
Pictures from Past Blessings
2019 | 2018 | 2017 | 2016 | 2015 | 2014 | 2013 | 2012 | 2011 | 2010 | 2009 | 2008 | 2007 | 2006 | 2005