Children's Miracle Network Benefit Car Show ~ September 10, 2023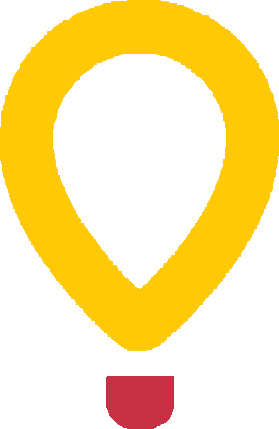 The 5th Annual Shaheen Chevrolet Car Show, in partnership with Capital City Corvette Club, will be held on Sunday, September 10, 2023. The show takes place at Shaheen Chevrolet located at 632 American Road in Lansing. The event runs from 10 a.m. through 2 p.m., with registration starting at 9 a.m. The fee to enter your awesome vehicle is $20 and collected at the gate. Entrance is free for spectators to join the fun and enjoy the beautiful cars and trucks. Dash plaques will be given to the first 100 vehicles registered. Trophies to the Top 25 and Best in Show will be awarded. In addition, a show favorite is the trophy presented by the Miracle Child of the Year!
This family event raises funds to benefit University of Michigan Health at Sparrow Children's Center, our local Children's Miracle Network hospital. Bring your children and grandchildren along to enjoy the wonderful vehicles, as well as the surprise visits from Super Heroes wandering throughout the show.
WITL radio will broadcast live from the event!
Cottage Inn Pizza and Udderly Delicious Ice Cream will be available for purchase. Playmakers 'Autumn Classic' race will offer a discount for signing up at the show.
Door prize drawings will be take place for vehicle owners registering their cars, motorcycles or trucks in the show.
All vehicles registered for the show are entered into the Grand Prize drawing for a flat screen TV, courtesy of Shaheen Chevrolet.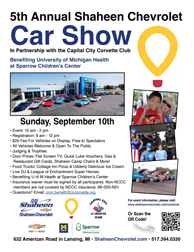 Sponsorship is an amazing way to help Children's Miracle Network support these children and their families:
MINI-SPONSOR: $50+ includes the registration of one vehicle entry to the show.
CORPORATE SPONSOR: Donations over $200.
Capital City Corvette Club is also seeking donations of door prizes for this amazing event that supports our local community.
Click the Flyer to the left for additional details.
Contact cmn.benefit@cccorvette.org if you would like information on donating to help support our local Children's Miracle Network hospital.
2023 CMN Sponsors

Pictures from past events: 2016 | 2017 | 2018 | 2019
2023 CMN Videos: by Shaheen Chevrolet | by Ed Thomas